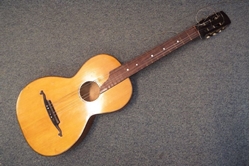 Is this George Harrison's first ever guitar?
The dusty instrument surfaced after spending more than half a century being hidden in a Cheshire cupboard.

Until now, it was believed his oldest surviving guitar was an Egmond, which was auctioned off to an anonymous buyer in the mid 1980s.
George's mother Louise helped the 14-year-old buy the Egmond from a school friend for £3, after the family moved to a council house in Speke. With his mother's encouragement, George mastered the beginner's guitar after a few months and asked for a new one.
Louise saw her son's musical flair and saved up until she could afford a Hofner President. The President was a middle-of-the-range electric guitar and cost Louise around £30, and was a step up from his primitive Egmond.
A year later, still aged 14, Harrison joined school pal John Lennon's band 'The Quarrymen', on Paul McCartney's recommendation.Lennon was unconvinced by George's ability to begin with, but allowed him to remain in the band.
After changing the band's genre from skiffle to rock and roll, all but Lennon, McCartney, and Harrison left and two years later, in 1960, they renamed the band The Beatles.
By: James Gant
Source: Liverpool Echo