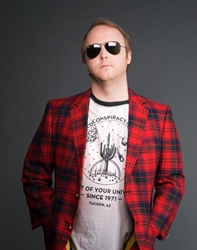 James McCartney is a man of few words, preferring as it were to let his music do the talking.
So McCartney, the only son of Paul and Linda McCartney, doesn't turn up with a lot of hype. Nor does he do anything to contribute to any buzz that would be generated by talking about his life and family, playing Paul's songs or, in an opposite strategy, coming out against his dad's kind of music.
Rather, the 39-year-old simply plays his own songs — he's released a pair of EPs and two albums since 2010 — and flies quietly under the pop culture radar.
After spending his first two and a half years on the road with Paul McCartney and Wings, James grew up in the county of East Sussex in southeast England, attended the local state secondary school, and in 1998, graduated from Bexhill College, near his East Sussex home, having studied art and sculpture.
A guitarist since he was 9, when his father gave him a Fender Stratocaster once owned by Carl Perkins, McCartney played on a pair of Paul McCartney and Wings albums, taking a guitar solo on 1997's "Flaming Pie" and contributing guitar and percussion to 2001's "Driving Rain."
By: L. Kent Wolgamott
Source: Daily Herald