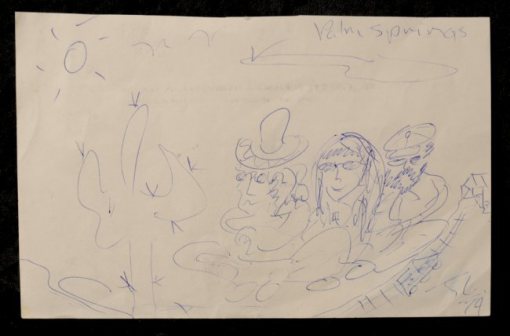 A rare drawing by John Lennon which sold Friday in a celebrity auction brings to mind a hair-raising story of when the ex-Beatle took a ride on the famous Palm Springs aerial tramway in California. The ballpoint pen drawing shows Lennon, girlfriend May Pang and Harry Nilsson sitting on a tramcar thousands of feet off the ground in midair.
This rare drawing was auctioned off along with several other John Lennon sketchesfrom the 1970s on Friday March 21 by CooperOwen Auctions in London. The drawings were given to guitarist Jesse Ed Davis from Lennon. Davis was a session musician who played lead guitar on Lennon's albums "Walls and Bridges" and "Rock and Roll". In March of 1974, John Lennon was in the midst of his "Lost Weekend" with girlfriend, May Pang, on the West Coast. He had temporarily split from wife, Yoko Ono, and was partying and carousing with friends like Harry Nilsson in Los Angeles. On a weekend getaway, Lennon, Pang, Nilsson and his girlfriend, along with former Beatles' roadie, Mal Evans, drove to Palm Springs from L.A. May Pang recounts the trip in her book "Instamatic Karma" showcasing pictures she took of John and Harry sitting outside on the grass in Palm Springs. It was Harry's idea to go to Palm Springs, the desert retreat once known as the "Playground of the Stars," and he suggested that they all go to a restaurant and bar which just happened to be at the top of the tramway.
Read more on this story.......
Source: Daytrippin' Magazine
Courtesy CooperOwen Auctions