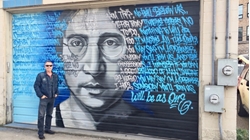 A pair of artists visiting Chicago for a month to paint messages of love on buildings didn't plan to paint John Lennon's face and the lyrics to his "Imagine" on a garage in Bucktown.
It just felt right.
"We like to freestyle. We paint concepts based on the cultural background of the area we are painting. We like to paint murals for the community," said Resa Piece.
Piece, a street art muralist and her boyfriend, a graffiti writer who goes by the name Menace Two, are based in Queens, New York.
The inseparable couple — who say they've not spent more than 24 hours apart since they began dating a little over a year ago — started their cross-country road trip in September in Philadelphia and arrived in Chicago on Oct. 1.
Their goal is to paint murals that express the concept of love and kindness in various cities, according to Piece.
Source: Alisa Hauser @BCC_WPB