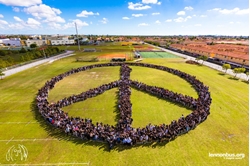 When the John Lennon Educational Tour Bus pulled up at Hialeah Gardens High School, many students didn't know much about the famous late Beatle.
Some wondered if he was on the bus himself. One insisted to her friend his last name was "Legend."
But when the educators who drive the bus-turned-recording-studio-on-wheels played the 1971 song "Imagine" and other Beatles tunes, the kids understood the messages. They know what it's like to yearn for a world without violence.
"My cousin got shot," said sophomore Yvette Smith. "It [had] a big impact on me. … We need to have peace in this country, because, all this shooting needs to stop, needs to come to a stop."
On a hot morning last week, Smith and three thousand of her classmates arranged themselves on the school's football field in the shape of a peace sign. A photographer shot the scene from perch high above them, sitting in the bucket of a cherry picker. Drones circled, too, capturing images of one of the biggest human peace signs the national music education program has ever staged.
Source: Jessica Bakeman