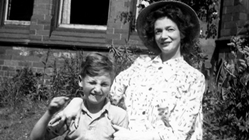 Nine year old John Lennon (1940-1980) poses for a portrait with his mother Julia (1914-1958) in the front garden of "Ardmore," which was the name of the home of John's cousin, Stanley Parkes circa 1949 in Rock Ferry, Cheshire, England. (Getty)
Ray Connolly was supposed to arrive in New York City from his native England on Dec. 9, 1980 to visit his pal John Lennon for a few days at his apartment in the Dakota building.
But of course it didn't happen, because on the evening of Dec. 8 the former Beatle was shot and killed right outside his home. Connolly, today a veteran journalist and screenwriter, recently published "Being John Lennon," a book he hopes will demystify the artist and unveil the complex man he was.
"He's either painted as a saint, a martyr or a monster," said Connolly. "John was neither of those things. He was just like everybody else," the British writer told Fox News.
Source: Stephanie Nolasco/foxnews.com