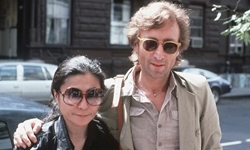 German police on Monday arrested a 58-year-old man in Berlin on suspicion of handling stolen items from John Lennon's estate, including the late Beatle's diaries.
The items were stolen from Lennon's widow Yoko Ono in New York in 2006 and have been seized as evidence, Martin Steltner, a spokesman for the Berlin prosecutor's office, said.
Polish company agrees to change its name to On Lemon after legal letters saying drink infringed trademark
The unidentified man was taken into custody suspected of fraud and handling stolen goods.
A second suspect, who lives in Turkey, "is unattainable for us at the present time," Steltner said in a recorded statement posted on Twitter.
The stolen goods consisted of "various items from the estate of John Lennon, including several diaries that were written by him," Steltner added.
Source: The Guardian