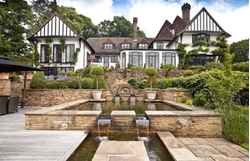 The Surrey home where John Lennon penned some of the Beatles biggest hits has listed for £8.9m.
Purchased by the musician and his first wife Cynthia in 1964, at the peak of Beatlemania, Kenwood sits in 1.5 acres on the St George's Hill estate in Weybridge.
Lennon hired interior designer Kenneth Partridge to overhaul the house. Partridge knocked down walls to create party-friendly reception rooms and installed mauve flocked wallpaper and a globe-shaped bar. The musician – who wrote 'I Am the Walrus' in the attic – sold the home just four years later when the couple separated.There's little trace of Partridge left in the six-bedroom home's interiors, which have been renovated by the current owners. Spacious rooms feature leaded windows that look onto the mansion's stepped garden, while the living room comes with a fireplace and original wood-panelling.
Source: by Emma Tucker