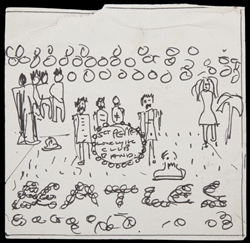 John Lennon's original album art sketch for Sgt. Pepper's Lonely Hearts Club Band will anchor Julien's Auctions' upcoming sale in New York City. The "Music Icons 2017" auction will take place May 20th at the Hard Rock Cafe in Times Square.
The drawing was found in a sketchbook uncovered at Lennon's former home in Surrey, England, where he lived with his first wife Cynthia starting in 1964. Lennon wrote several Beatles hits in the Surrey mansion, as well as much of Sgt. Pepper's. The early album artwork sketch features a bass drum emblazoned with the LP's title and is estimated to be worth between $40,000 and $60,000.
Along with the Sgt. Pepper sketch, "Music Icons 2017" will feature other Beatles memorabilia including a Lennon-signed "Please Please Me" album cover, a George Harrison-signed Fender guitar used by the Beatle and a program page from 1963, which all four Beatles autographed.
A number of Beach Boys items are also set to hit the auction block including photographs, manuscripts, handwritten notes and lyrics, music sheets and band contracts. Several Elvis Presley items will also be up for sale, including his first piano and the King's chest X-ray.
By: Jon Blistein
Source: Rolling Stone