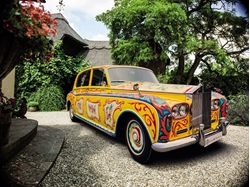 John Lennon's psychedelic Rolls-Royce returns to Britain to mark the launch of its new Phantom and 50 years of Sgt Peppers
It will travel from Canada to London to join 'The Great Eight Phantoms' – A Rolls-Royce Exhibition, at Bonhams on Bond Street, an area visited regularly by Lennon in the late 1960s in this very car.
Members of the public will be able to see it there from 29 July to the 2 August.
Lennon took delivery of his car on on 3 June 1965 – the same day that astronaut Edward H White left the capsule of his Gemini 4 to become the first American to walk in space.
Originally the Rolls-Royce Phantom V was in Valentine Black. But Lennon had it customised in true rock-star style.
The rear seat was converted to a double bed, and a television, telephone and refrigerator were installed, along with a 'floating' record player and a custom sound system (which included an external loud hailer).
Then, in April 1967, just as the recording of the ground-breaking Sgt. Pepper's Lonely Hearts Club Band album was finishing, Lennon asked Surrey-based coachbuilders JP Fallon to give the Phantom a new paint job which was carried out by local artist Steve Weaver, who charged them £290 (close to £5,000 now).
Rolls-Royce said: 'The freshly-painted Phantom was unveiled days before the worldwide release of Sgt. Pepper's on 1 June and it seemed part of the overall concept of the album.
'The new colour scheme is often described as "psychedelic" and certainly the colours, particularly the dominant yellow, reflected the cover of Sgt. Pepper's Lonely Hearts Club Band.'
Source: Daily Mail
Read More<<<<<