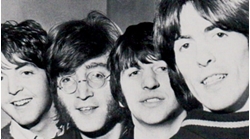 In 1965, Fats Domino and the Beatles were introduced in New Orleans. When Domino was asked later about meeting the world's biggest rock band, he grinned and answered, "No, they got to meet me."
From their earliest days of international stardom, the Fab Four never failed to acknowledge the early influences of America's greatest rock pioneers—Elvis Presley, Chuck Berry, Carl Perkins, Little Richard, Buddy Holly. However, one of the recording superstars often overlooked during interviews was Antoine "Fats" Domino.
There's no doubt that the New Orleans legend once influenced the nascent quartet.
George Harrison recalled Domino's "I'm in Love Again" as being the first rock 'n' roll song he ever heard. "Ain't That a Shame" became the first tune that John Lennon learned on the guitar.
Source: RANDAL C. HILL/idahoseniorindependent.com