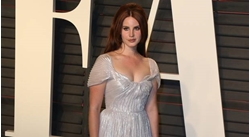 The pair sing about Sean's famous parents John Lennon and Yoko Ono on Tomorrow Never Came.
Sean Lennon nearly cried with joy after Lana Del Rey declared their collaboration was "perfect".
The Born to Die singer, 31, teamed up with John Lennon and Yoko Ono' son Sean on track Tomorrow Never Came, from her new album Lust for Life.
Lyrics from the song reference Sean's famous mum and dad, including the line "I wish we could go back to your country house/And put on the radio and listen to our favourite song by Lennon and Yoko".
"She has exceptional taste," Sean commented to Flaunt magazine of his collaborator's approach to making music. "I told her that working on her song was a valuable lesson since I often modulate and take unintuitive chordal and melodic twists and turns, and she reminded me that you can be perhaps even more compelling if the melodies and chords feel natural and intuitive, not contrived or disorienting as in my music.
"Anyway I'll never forget when she called me after I sent her what I did and her first words were 'It's perfect!' I almost cried with joy because I honestly don't think anyone has ever said that to me about anything I've ever done. It was a very good feeling."
Lana was also full of praise for 41-year-old Sean, admitting that as soon as she wrote the song she knew she had to share it with him.
She did worry that the musician and actor may feel weird singing about his famous folks, but it all worked out in the end.
"I think the fact that I sing, 'Isn't life crazy now that I'm singing with Sean.' It points to the fact that we're both aware," she shared. "I didn't want it to come out exploitative in any fashion. Not that it would. Still, I wanted to be as careful as possible. I wanted it to come across layered with this sort of meta narrative mixed in. In a way it's a song about a song."