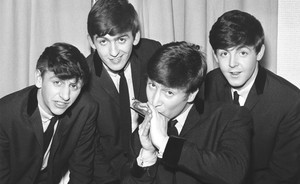 It was a dark time for the group. The Beatles lost their manager and good friend Brian Epstein to a barbiturate overdose in the fall of 1967. To forget their sorrows, John Lennon, Paul McCartney, George Harrison and Ringo Starr along with their wives flew out of London to Rishikesh, India for a retreat with Maharishi Mahesh Yogi for three months (Harrison and Lennon stayed the longest) starting in February 1968.
In this period the four Beatles wrote the bulk of their final compositions for the White Album, Let It Be, and Abbey Road. By late 1968, the group recorded their double album The White Album which had seen a number of arguments and a temporary walk out from Ringo. Paul McCartney felt that the group's cohesiveness was lost in individual recording sessions, overdubs, and complex compositions. It was as if The White Album was a compilation of songs by solo acts rather than an ensemble band. McCartney believed the best way to improve relations was to get the band back in the studio to mark the return of their rock 'n' roll roots. On New Years Day, 1969 The Beatles returned to the studio to record Let It Be.
Read more on this story.......
Source: Counterpunch