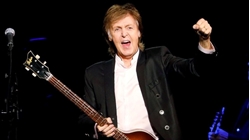 Paul McCartney is celebrating the release of his new record, 'Egypt Station'.
Sir Paul McCartney has cracked the top spot on the Billboard 200 chart for the first time in nearly four decades with his new record Egypt Station.
It's the eighth time that the legendary musician has reached the coveted spot but the first time a solo record of his has debuted at number one.
The last time Macca made it to #1 was in 1986 with Tug Of War -- the album that featured the "Ebony And Ivory" duet with Stevie Wonder and was made by Beatles producer George Martin.
Source: Michaela Morgan/Daily News