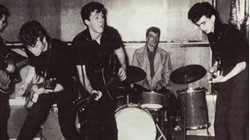 A maritime welfare charity that helped The Beatles when they fell on hard times has released a new book, which includes how it fed George Harrison horsemeat in Hamburg.
Whenever they played Hamburg, the band visited Sailors' Society's seafarers' center. John and George both had fathers who were seafarers and recognized the charity's name from its center in Liverpool.
Sailors' Society works with seafarers and their families around the world providing practical and emotional support. It also runs centers where seafarers can take time away from busy ports.
The charity's CEO, Stuart Rivers, said: "When we started gathering stories together for the book, we didn't know exactly how we'd supported The Beatles. "There were rumors they composed songs on the center's piano, but to find out we fed them horsemeat at Christmas was a bit of a surprise!"
Source: maritime-executive.com