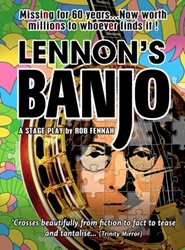 From the writer of the stage play adaptation of Helen Forrester's 'Twopence to Cross the Mersey' comes a brand-new comedy about the disappearance of Lennon's first musical instrument.
The play is based on the 2012 novel 'Julia's Banjo' by Rob Fennah and Helen A Jones and will mark the 60th anniversary of Julia Lennon's death and the disappearance of the banjo she taught her son to play.
Produced by Pulse Records Ltd in association with Bill Elms, Lennon's Banjo will open at Liverpool's Epstein Theatre on Tuesday 24th April 2018 for a two-week run until Saturday 5th May. Full cast and creative team to be announced soon.
Set in present day Liverpool: When Beatles tour guide Barry Seddon finds a letter written by John Lennon he unearths a clue to the solving the greatest mystery in pop history - the whereabouts of Lennon's first musical instrument which has been missing for 60 years. But Barry's loose tongue alerts Texan dealer, Travis Lawson, to the priceless relic. In an attempt to get his hands on the letter and the clues within he persuades his beautiful wife, Cheryl, to befriend the hapless tour guide and win his affections. The race for the holy grail of pop memorabilia is on!
"The intrigue and mystery surrounding Lennon's missing banjo, and the logic that it could be sitting in somebody's attic right now, has the potential to make headlines around the world. The story crosses over beautifully from fiction to fact and back again to tease and tantalise the reader that every word is true." Trinity Mirror book review
Source: Broadway World