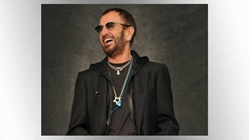 New Ringo Starr photography exhibit featuring previously unseen pics opening next month in the UK
Rob ShanahanA new exhibition featuring the photography of the recently knighted Ringo Starr, including archival images appearing in the ex-Beatles drummer's 2013 book Photograph, will open next month at Genesis House, headquarters of Genesis Publications, in Surrey, U.K.
The display also will mark the unveiling of a portfolio of previously unseen photo prints by Starr, as well as additional series of pics first made available in 2013 and 2015.
The Photograph Portfolio 2018 includes candid pics of Starr's Beatles bandmates -- John Lennon, Paul McCartney and George Harrison -- as well as a famous shot Ringo took of some excited Fab Four fans in a car during the group's first visit to New York City.
Source: wjbdradio.com