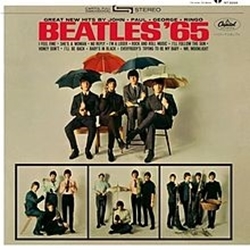 The scream at the end – "no reply!" – is one of the bleakest moments in the breakup song genre.
"It was my version of "Silhouettes": I had that image of walking down the street and seeing her silhouetted in the window and not answering the phone, although I never called a girl on the phone in my life. Because phones weren't part of the English child's life." – John Lennon on "No Reply"
This was going to be another essay. I had planned to write about what I am convinced is the greatest single ever released – "Strawberry Fields Forever" b/w "Penny Lane." But that was going nowhere (though I can see what I want to say, I can't quite seem to say it yet, which betrays a lot about my love of the Fabs) so I turn to another favorite, the opening song on both the British release Beatles for Sale or, if you were an 8th grade nerd like me, Beatles '65.
"No Reply" opens both albums. This is one of those rare times that the British album and its American counterpart agree. That makes me very happy. Let's leave it at that.
As John notes above, he was trying to write a song like the delightful "Silhouettes" by The Rays (and covered in a British Invasion version by Herman's Hermits). John's song is a much darker version about the insecurity of someone in love. Here's the version that John references from the Rays from 1957:
By: Jim Booth
Source: Scholars and Rogues