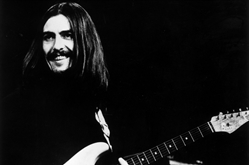 The Beatles' George Harrison, the "quiet one," was in truth a kaleidoscopic force of nature. His songs and musicianship -- both with the fab four and beyond -- have not just aged well, but have become straight-up classics enshrined in the firmament of the 20th century music canon.
Without "If I Needed Someone," "I Me Mine," "Something," "Taxman," "Here Comes the Sun," or "While My Guitar Gently Weeps," the four would have been unbearably less fabulous. The same goes for his myriad of envelope-exploding contributions, including his chiming 12-string Fireglo Rickenbacker used throughout Hard Day's Night, his #wtf time-warped backward guitar on "I'm Only Sleeping" and his tamboura from the astral plane on "Tomorrow Never Knows." Harrison's genius is best summed-up perhaps with yet another of his underrated brilliant album cuts: "It's All Too Much."
And it never stopped. Harrison's 1970 magnum opus/dam burst following the Beatles' dissolution, All Things Must Pass, is filled with sublime sounds. The raw harmonica-driven "Apple Scruffs" could have been a White Album classic, his prostration before the universe in "My Sweet Lord" somehow became a pop staple (despite frivolous litigation) and the loping sing-along of "What is Life" all stand up to anything he did before or since.
By: Andy Gensler
Source: Billboard