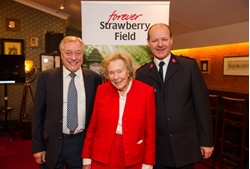 Orange Amplification is helping to raise funds for the Salvation Army's Strawberry Field campaign. This charitable cause aims to reopen the Strawberry Field site, immortalised in the Beatles song 'Strawberry Fields Forever'.
As a child John Lennon famously used to jump over the wall in the Strawberry Field grounds, where he would play and listen to The Salvation Army band. Lennon grew up just a stone's throw away from the site which has lain unused for 12 years.
The Salvation Army has owned Strawberry Field since the 1930's and want to build a hub that offers training, skills and valuable work placements providing real employment prospects to young people with learning disabilities and help them to achieve their full potential. They also hope to open the world famous gates of Strawberry Field to the public for the first time in summer 2019. The tranquil gardens will promote the theme of peace and love and feature a new exhibition dedicated to the history of Strawberry Field, the song and Lennon's early life.
Source: Andrew Braith/musictalkers.com