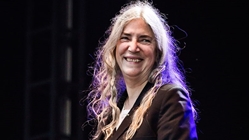 Patti Smith will receive the John Lennon Real Love Award at the Theatre Within's 37th Annual John Lennon Tribute, taking place December 1st at Symphony Space in New York City.
During the show, Smith will perform a set comprising her favorite Lennon and Beatles tunes, while an array of artists will also team to cover Sgt. Pepper's Lonely Hearts Club Band in its entirety to celebrate the album's 50th anniversary. Additional performers will be announced on Lennon's birthday, October 9th.
Smith will be the fourth person to receive the John Lennon Real Love Award. Folk-rock legend Donovan earned the honor last year, while the other two recipients are playwright and The Vagina Monologues author Eve Ensler and famed rock photographer Bob Gruen.
Source:Rolling Stone