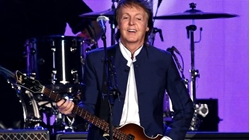 PAUL McCartney is set to rock AAMI Park this summer.
Concert industry sources say The Beatles and Wings icon is close to locking in long-awaited Australian tour dates in November and December with promoter Michael Gudinski.
If the deal is done, McCartney will play at the venue, which has hosted superstars including Bruce Springsteen, Foo Fighters and Taylor Swift.
Mr Gudinski, and publicists from his companies Frontier Touring and Mushroom Music Group could not be reached for comment today.
McCartney played a week of shows in Tokyo last month, and will return to the US from July to October with his One On One tour.
A 10-year-old girl asks to play bass with Paul McCartney during a concert. Courtesy: YouTube/facu1983p
Girl asks to play bass with Paul McCartney
His proposed visit to Australia comes 15 years after McCartney abruptly cancelled two nights at Docklands Stadium.
McCartney cited the Bali bombing as the reason and the fact he felt Australia was still in need of healing, not hearing "Hey Jude".
"This is not the appropriate time for a rock show," McCartney said in a statement.
He gave no date for a rescheduled event, adding: "In time, that show will hopefully come to be — but for now, my sympathies and those of all of us on this tour are with you all in your grief."
But long-held rumours suggested the 2002 shows were scrapped because McCartney was struggling to fill seats.
Paul McCartney cancelled his Melbourne performances 15 years ago and has never returned. Picture: Kevin Winter/Getty Images
However, after rave reviews for his latest outing with a powerhouse band (Paul Wickens, Rusty Anderson, Brian Ray and Abe Laboriel Jr), expectations are high for McCartney's first Down Under visit since 1993's New World tour.
Asked why performing is still vital to him, McCartney told Rolling Stone: "This idea of the great little band — it's quite attractive. A basic unit is at the heart of the music we all love."
McCartney, 74, hasn't ruled out touring at 80, either.
"It used to be that doing this at 40 seemed ... unimaginable — and unseemly," McCartney said.
"Doris Day ... once said to me, "Age is an illusion." It's a big number the older you get. But if it doesn't interfere, I'm not bothered. You can ignore it. That's what I do."
The former Beatles member's live gigs have been met with rave reviews. Picture: AFP Photo / Bertrand Guay
Paul McCartney's show in Tokyo last month included:
• A Hard Day's Night
• Can't Buy Me Love
• Let Me Roll It
• Maybe I'm Amazed
• We Can Work It Out
• Every Night
• Love Me Do
• And I Love Her
• Blackbird
• Lady Madonna
• Four Five Seconds
• Eleanor Rigby
• Band On The Run
• Back In The USSR
• Let It Be
• Live and Let Die
• Hey Jude
• Yesterday
• Sgt Pepper's Lonely Hearts Club Band