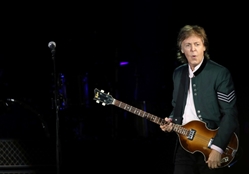 British musician Paul McCartney performs during the "One on One" tour concert in Porto Alegre, Brazil.
The Israeli Wolf Prize will be awarded at the end of May to nine laureates in the fields of music and science, including legendary British rocker Sir Paul McCartney.
The Wolf Foundation announced on Monday that it selected McCartney – who will share the prize with conductor Adam Fischer – for being "one of the greatest songwriters of all time." McCartney's songs, the prize jury noted, "will be sung and savored as long as there are human beings to lift up their voices."
The nine laureates – in the fields of music, agriculture, physics, chemistry and mathematics – are invited to a special ceremony at the Knesset hosted by President Reuven Rivlin at the end of May.
Source: Amy Spiro/jpost.com