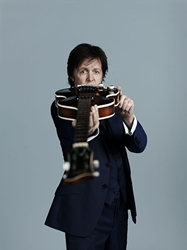 Get ready for some new music from Paul McCartney.
"I'm making a new album, which is great fun. I'm in the middle of that," McCartney said during an interview with BBC Radio 6's Matt Everitt on Saturday (March 25).
The new set is being produced by Greg Kurstin. "I'm working with a producer who I first worked with two years ago on a thing, a piece of music I'm doing for an animated film," McCartney said.
"And since then he went on to work with Beck and got best album of the year," he continued. "Then he went on to work with Adele. He just got song of the year, record of the year with Adele. And just got producer of the year. So my only worry is people are going to go, 'Uhhhhh, there's Paul going with the flavor of the month.' You know, I suppose you always think the worst of it. But he's a great guy. Greg is musical and he's great to work with."
McCartney concluded the interview by talking about his upcoming tour plans in Japan. A representative for the artist would not comment when asked by Billboard if more tour dates would be announced soon.
By: Steve Mrinucci
Source: Billboard