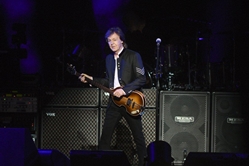 The long and winding road took Paul McCartney back to Madison Square Garden, where the Beatles legend proved he hasn't lost a bit of his magic.
Performing his first full concert at the famed New York City arena since 2005, McCartney, 75, captivated the sold-out audience with a blend of Fab Four classics, his biggest Wings hits and even a few contemporary numbers.
And if that wasn't enough, McCartney closed out the three-hour, 40-song performance by bringing Bruce Springsteen onstage during his encore in what was one of the major highlights of the night.
Clearly, it was worth the 12-year wait.
McCartney got the mostly adult audience on its feet and rocking from the get-go, kicking things off with a Beatles hit, "A Hard Day's Night," before running through fan favorites like "Can't Buy Me Love," "Jet" and "All My Loving" early on in the set.
"Good evening, New York City," McCartney proclaimed to the cheering crowd two songs in. "It's so good to be back!"
Source: Daily News