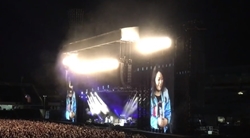 Sir Paul McCartney has helped a Perth man propose to his girlfriend 10 years after the couple met on a Contiki tour and bonded over their love of the Beatles.
Martin held a sign up at the rock icon's concert on Saturday night and was brought to the stage during the encore to pop the question to Saya, with McCartney instructing him to get down on one knee.
He then signed Saya's Beatles jacket and joked: "It's going straight up on eBay."
The clearly overwhelmed couple hugged McCartney and thanked him for making their night special as he kicked off the Australian leg of his One on One world tour, but they weren't the only ones.
The crowd lapped up every minute of the Englishman's set, which ran for more than three hours and included many beloved Beatles and Wings hits.
The show opened with classics, including A Hard Day's Night and Can't Buy Me Love, before McCartney took his jacket off.
"That was the one and only wardrobe change of the evening," he quipped.
Unlike many pop stars, McCartney never needed flashy costumes.
He shook his bottom, strummed several guitars and played the piano with so much energy, it's hard to believe he is 75 years old.
His bandmates were equally enthusiastic and the music was loud, but not so much that it drowned out the sound of McCartney's still relatively strong voice.
It was about halfway through the concert when McCartney requested a "Beatles scream" from the audience and they happily obliged.
"Take me back, baby!" he enthused.
Source: AAP