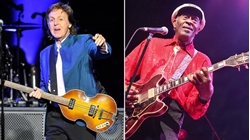 In a reflective tribute to the late Chuck Berry, Paul McCartney honored the rock icon's massive influence on the Beatles' formative music. "To us, he was a magician making music that was exotic, yet normal, at the same time," the singer wrote on his website. "We learnt so many things from him which led us into a dream world of rock & roll music."
While admitting it's "not really possible to sum up what he meant to all us young guys growing up in Liverpool," McCartney pinpointed a few signature moments that demonstrated Berry's genius as a guitarist and lyricist. "From the first minute we heard the great guitar intro to 'Sweet Little Sixteen,' we became fans of the great Chuck Berry," he continued. "His stories were more like poems than lyrics – the likes of 'Johnny B. Goode' or 'Maybellene.'"
The former Beatle also recalled meeting his rock idol in Berry's hometown, St. Louis, during a tour stop. "It's a memory I will cherish forever," he said, calling him "one of rock & roll's greatest poets."
The Beatles covered one of Berry's signature hits, 1956's "Roll Over Beethoven," on their second LP, 1963's With the Beatles. They also added their own spin to "Rock and Roll Music" on 1964's Beatles for Sale.
The Fab Four frequently paid tribute to Berry during their touring years. The 1994 Live at the BBC compilation includes versions of "Too Much Monkey Business," "Carol," "Johnny B. Goode," "Memphis, Tennessee," "Roll Over Beethoven," "Sweet Little Sixteen," "Rock and Roll Music" and "I Got to Find My Baby."
By: Ryan Reed
Source: Rolling Stone