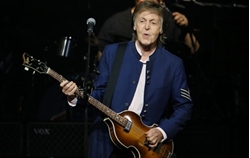 Paul McCartney has paid tribute to late rock and roll icon Fats Domino, describing meeting his idol and calling him a "huge influence" on The Beatles.
Domino passed away on Tuesday (October 24) at the age of 89. He died of natural causes.
McCartney has now posted a tribute to his official website, calling Domino a "great rock 'n' roll pianist and singer" and describing him as "truly magnificent".
"We were excited to meet Fats once in his home town of New Orleans," McCartney wrote. "He was wearing a huge star spangled diamond encrusted watch which was our first encounter with bling!"
Source: nme