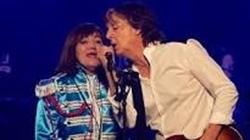 TAMPA (FOX 13) - He saw her standing there and pulled her up on stage. A Polk County woman got a surprise chance to sing with music legend Paul McCartney Monday night, and there's no maybe about it: She's amazed.
The former Beatle played some of the greatest hits from the Fab Four and also from his solo career during a rocking show at Amalie Arena in Tampa.
Kecia Howell and her son were pulled up on stage to sing 'Get Back' with McCartney. She was wearing a handmade Sergeant Pepper-style jacket and sitting up in the front, so they're thinking that's why he may have noticed her.Not only did she get to sing and dance on stage with Sir Paul, she also got something that would be the envy of pretty much any fan -- a smooch.