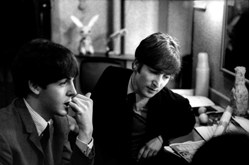 Paul McCartney has shared a heartfelt message on what would've been his late bandmate and friend John Lennon's 80th birthday.
On Friday 9 October, the Wings musician posted a black and white throwback photo of the pair smiling while working on a collaboration as McCartney puts pen to paper in the snap.
"I love this picture, it reminds me of the bond between us," the Beatle wrote on Instagram. "Happy 80th John. Love Paul."
Source: Amy Johnson/msn.com