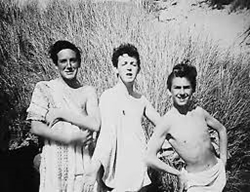 A letter in which Paul McCartney settled a long-standing "debt" from before he achieved worldwide fame with The Beatles is to be auctioned.
In 1958, McCartney and George Harrison went on a hitchhiking holiday and visited the seaside resort of Harlech, in Gwynedd, North Wales, known for its castle and the song Men Of Harlech.
They knocked on the door of a farmhouse belonging to the Brierley family and were allowed to pitch their tent in the field at the rear of their bungalow.
After a downpour on their first night, the pair sought refuge in the farmhouse and ended up staying the week.
McCartney and Harrison became friendly with the young John Brierley, a musician himself, and later sat in with his local skiffle group The Vikings during a performance at the Queen's Hotel pub in the village.
Source: theguideliverpool.com