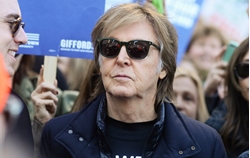 Macca's first studio album in five years is out next month
Paul McCartney has shared a new single from his forthcoming album 'Egypt Station', and revealed the full tracklisting for the record.
You can watch the lyric video for the single 'Fuh You' below. It's the third track to be revealed from the album, following 'I Don't Know' and 'Come On To Me' which both appeared together in June.
he latest single finds the former Beatle exploring a contemporary pop sound, and is a change in direction from the relatively traditional-sounding tracks we've heard thus far.
The album's full tracklisting has also appeared, with Macca tweeting an individual illustration for each track, or 'station' in a thread you can see below.
That tracklist in full:
Source: Patrick Clarke/nme.com