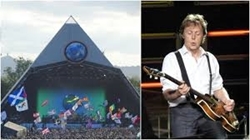 Paul McCartney has responded to reports that he could headline Glastonbury next year – and it's looking pretty positive.
The Beatles icon has been tipped for a headline slot as the iconic festival celebrates its 50th anniversary in 2020. He's also the bookies favourite to take top billing – alongside the likes of Fleetwood Mac, Foals and Elton John.
Appearing on Zoe Ball's BBC Radio 2 Breakfast Show this morning (September 5), McCartney did little to quell the speculation when asked if a Pyramid Stage appearance was in order.
"I mean people are saying that it would be good if I did it, so I'm starting to think about whether I can or whether it would be a good thing. My kids are saying 'Dad we've got to talk about Glastonbury' and I think I know what they mean," he said.
"So they go every year, like a lot of people these days, and it is a great festival and we played there quite a long time ago so, maybe it is time to go back, I don't know, I'd have to put a few things in place and try and do that but it's starting to become some sort of remote possibility. (ZB: fingers crossed) I mean it's definitely not fixed yet but people are starting to talk about it."
Source: Nick Reilly /nme.com