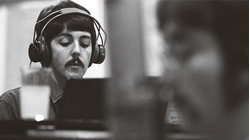 PAUL McCARTNEY HELPS MOJO celebrate 50 years of the Beatles' Sgt. Pepper's Lonely Hearts Club Band with an exclusive interview in the magazine that hits UK shops on Tuesday, April 25. He recalls the circumstances surrounding the group's most groundbreaking album and gives his verdict on the new stereo mix designed to add legs to one of popular music's key benchmarks.
But as McCartney reminds MOJO, before Sgt. Pepper became an icon, there was a period of critical bemusement. How dare Beatles band go all weird?
"We were always being told, 'You're gonna lose all your fans with this one.'" McCartney tells MOJO. "And we'd say, 'Well, we'll lose some but we'll gain some.' We've gotta advance."
In 1967 The Beatles ran the gauntlet of a media gripped in a moral panic over the younger generation's embrace of drugs, and others who regarded Pepper's stylistic smorgasbord and hints of thematic coherence as evincing ideas above the group's station. The Lovable Moptops stereotype died hard.
"Sgt. Pepper did actually get a terrible review in the New York Times," recalls McCartney. "The critic [Richard Goldstein] said he hated it, thought it was a terrible mess, and then he was on the streets all week and heard the talk, heard what people were saying, and he took it back [in a subsequent Village Voice piece], recanted after a week: 'Er… maybe it's not so bad.' But we were used to that. She Loves You was 'banal'. But if we liked it and thought it was cool, we would go for it.
By: Mojo Staff
Source: Mojo