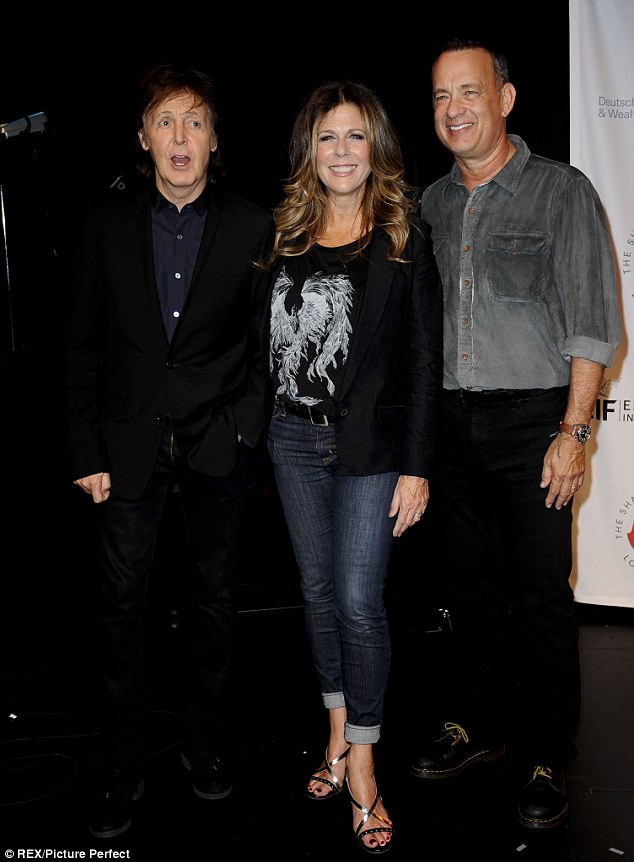 He is famous for his singing and song-writing skills. But Sir Paul McCartney appears to have caught the acting bug. The 71-year-old took part in the Simply Shakespeare event in Los Angeles on Wednesday alongside Tom Hanks, Rita Wilson and William Shatner.
The former Beatle voiced the play The Two Gentlemen Of Verona during the event, which was held at The Broad Stage in Santa Monica. Paul looked in fine form, showing off his trim body in a fitted black suit paired with dark boots as he took to the stage. The legendary artist posed for a picture with Tom and Rita, who opted for a more dressed-down look for the occasion. Ticket prices to the event cost $1,500, with proceeds benefiting the center's veteran and inner-city youth employment programs. Paul made headlines on Monday when he brought thousands of fans to Hollywood Boulevard where he serenaded them with a free concert as part of the Jimmy Kimmel Live show. Describing it as a 'balmy' evening, Sir Paul was on fine form as played hits including Magical Mystery Tour, Let It Be and Hey Jude.
Listen to the Audio Version of this News Story

Read more on this story.......
Source: Mail On Line
Photo Credit: Rex Picture Perfect
Source: Mail On Line
Photo Credit: Rex Picture Perfect