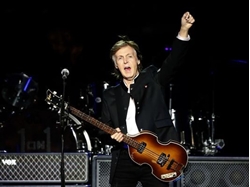 Paul McCartney performs on stage at Prudential Center, Newark. Monday, September 11, 2017.(Photo: Noah K. Murray)
Paul McCartney took back 9/11 with a night of life-affirming music, underscored with peace and love.
"We're going to dedicate this show to all the people who were involved in what happened 16 years ago today." said McCartney during his Monday, Sept. 11 show at the Prudential Center in Newark.. "We want people to know we are against oppression, prejudice and violence and we want people to know that we are for friendship and freedom."
McCartney's music can do that. It's full of powerful peace and love vibes, framed by exquisite melodies and presented with an eternal optimism. McCartney, 75, sprinkled the crowd with Beatles magic and the hope that a three-minute rock song can change the world.
Source: Chris Jordan