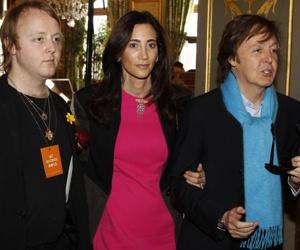 Sir Paul's son feels fine about his "new mother."James McCartney — the little-known solo artist and son of Beatles legend Paul McCartney — said he's delighted with his dad's new wife, former MTA board member Nancy Shevell.
"Nancy's my new mother," James McCartney, 35, told the Daily Mail newspaper. "I feel that. Definitely. She's very genuine." Shevell and McCartney got married on Oct. 9, 2011. It was a third marriage for Paul, who turns 71 tomorrow.
James McCartney's mom was Linda McCartney, who died of cancer in 1998. Sir Paul's kid gushed about Shevell, who has been an enthusiastic cheerleader for his career as a struggling musician.
"She has been one of the biggest supporters of me doing this, pursuing my own dreams," said James.
Listen to the Audio Version of this News Story

Read more on this story........
Source: New York Post
Photo Credit: Wire Images