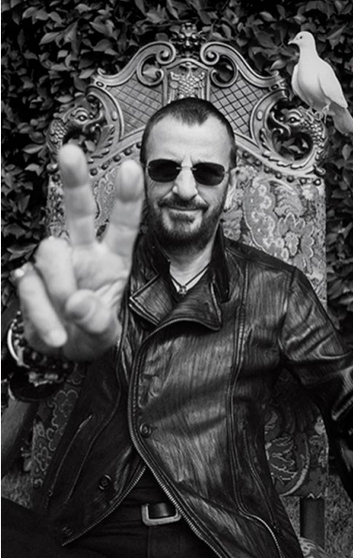 John Varvatos and Ringo Starr continue their #PEACEROCKS initiative with an outdoor celebration and performance on the International Day of Peace, Sunday, September 21, 2014. The celebration will take place in front of the John Varvatos store located on Melrose and Robertson from 4-6pm and will include a brief performance including a song from each member of an All Starr Band featuring Edgar Winter, Steve Lukather, Richard Page and more – and closing with three songs performed by Ringo Starr. This continues the #PEACEROCKS campaign that was launched on Ringo's birthday July 7 when John Varvatos announced that Ringo would be featured in the Varvatos Fall 2014 campaign which is also a fundraising and awareness campaign to benefit the David Lynch Foundation via The Ringo Starr Peace & Love Fund.
This is accomplished through the ads themselves, all of which include #PEACEROCKS to fuel an aggressive social media campaign using the hashtag. This call-to-action encourages participants to share photos of themselves flashing the peace sign via Instagram, Twitter, Vine, and Facebook, tagged with the hashtag, #PEACEROCKS. For each #PEACEROCKS tagged photo, $1 will be donated to the charity through the end of 2014. Additionally, 'Peace Shops' will be activated at various Varvatos points of sale where 100% of proceeds from a dedicated 'peace rocks tee' will be sold to benefit the charity.

Read more on this story........
Source: The Hollywood Times