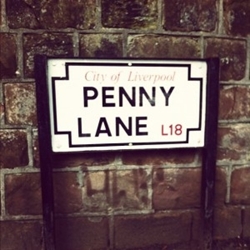 It's impossible to visit Liverpool and not intertwine your visit with The Beatles somehow. Whether it's a visit to the museum down on Albert Dock or a pint in Mathew Street's legendary Cavern Club, the influence of the most influential rock band in history can be seen right throughout the city.
In February of 1967, The Beatles released 'Penny Lane' as one half of a double A-sided single, accompanied by 'Strawberry Fields Forever'. While the former did not top the charts in the UK – nor did the combination continue the band's four-year stint of continually chart-topping singles – 'Penny Lane' remains one of the bands most revered records, and was ranked as the nation's 6th favourite Beatles track in a recent ITV poll.
The song's title is eponymous with the street of the same name, and can be found at Smithdown Place, just less than four miles from Liverpool Lime Street.
In an interview with Clash magazine in 2009, Paul McCartney discussed the song's origin, saying: "'Penny Lane' was kind of nostalgic, but it was really a place that John and I knew; it was actually a bus terminus. I'd get a bus to his house and I'd have to change at Penny Lane, or the same with him to me, so we often hung out at that terminus, like a roundabout."
Source: The Guide (Liverpool)