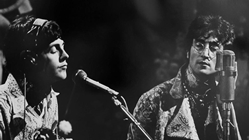 David Magnus was once told that he'd never make a photographer. But, at the age of 19, in 1963 he was invited to photograph the Beatles at Stowe School — the first of many assignments he'd undertake for the band.
"They were absolutely charming. They were great fun to be with and I found them very easy to work with throughout," says Magnus, a member of Stanmore and Canons Park Synagogue.
Magnus went on to photograph everyone from Gerry and the Pacemakers to Cilla Black for NEMS Enterprises, the management company formed by Beatles manager Brian Epstein.
For the first time in his career, Magnus's photographs, many of which have never been seen, are being exhibited. And at the heart of The Beatles Unseen, at Proud Chelsea, is his exclusive shoot from the historical live recording of All You Need Is Love for the BBC's Our World on 25 June 1967, watched by 400 million people worldwide.
Magnus took unusually candid photographs of The Beatles relaxing backstage. "The best pictures that I ever took of them were that weekend. I think that was the closest I ever got to the Beatles photographically because it is natural and unposed as you see it.
"These photos reveal, even in 1967, when they were at the height of their fame, how personable, easy-going and down-to-earth they were.
By: John Nathan
Source: The Jewish Chronicle