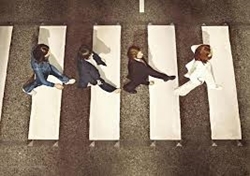 The new remastered version of "Abbey Road" offers some interesting alternate versions and mixes on the very last album The Beatles recorded — although it wasn't the last to be released.
"Abbey Road" topped the charts in both the U.S and England when it shortly after it debuted on Sept. 26. 1969. Now, a new remastered and remixed 50th Anniversary Deluxe Edition has been released. Is it worth it? Yes and no.
I learned a long time ago remastering a classic album sometimes pays off — and sometimes it doesn't. Although sometimes previously unheard notes can be brought to the fore, that doesn't necessarily improve the listening experience.
When compact discs were first released, not every album was immediately available in the then-new format. Although they were touted to have improved sound, discerning listeners soon learned that many of the discs didn't sound as good as the vinyl they were supposedly replacing.
It took a matter of years for many albums to be converted to CD, with The Beatles — amazingly — among the last of the classic artists to have all their albums released as compact discs.
Source: James Beaty/mcalesternews.com