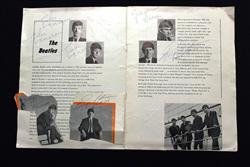 A RARE Beatles programme emblazoned with no less than three signatures of John Lennon is to go on sale at a South Derbyshire auction house. The commemorative item, from a show in March 1963, has been signed by the late singer on three separate pages. There are also signatures from the other band members.
It will be sold at Hansons, in Etwall in a sale later in the month. Music and memorabilia consultant Clare Howell said: "Our client's father and friends went along to the concert and were fortunate enough to meet the boys. Having just the one programme between them, they asked John to sign three time, so they could each have an autograph. One lucky fan was left with the programme." The starting bid for the lot is £1,000. Another lot of cuttings from the concert, in Sheffield, will go for an estimated £250-£350.
Listen to the Audio Version of this News Story

Read more on this story........
Source: Burton Mail