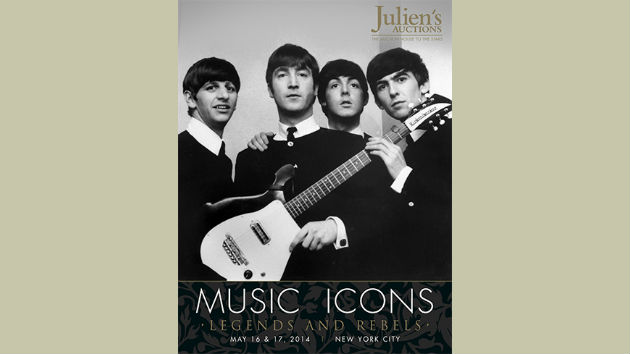 A rare Rickenbacker guitar once owned by George Harrison and also played by John Lennon is among the Beatles-themed items that will be up for bids at a music memorabilia auction scheduled to take place in New York City this May. Julien's Auctions will hold its Music Icons 2014 sale on May 16 and 17 at the Hard Rock Café New York in Times Square.
Harrison bought the aforementioned guitar, a 1962 Rickenbacker 425, in Mount Vernon, Illinois, when he paid a two-week visit to his sister Louise in 1963. He had the instrument painted black to resemble a guitar that Lennon was using onstage at that time. Harrison played the guitar extensively for a while, including during The Beatles' first appearance on the TV show Ready Steady Go! in October 1963, and in the studio when the band recorded "I Want to Hold Your Hand." In addition, Lennon was photographed playing the instrument backstage at an October 1963 concert in Scotland. Harrison eventually gave the Rickenbacker to George Peckham, a friend and fellow musician who worked as an engineer for The Beatles' Apple Studios.
Listen to the Audio Version of this News Story

Read more on this story.......
Source: WFJA FM, Sanford, NC