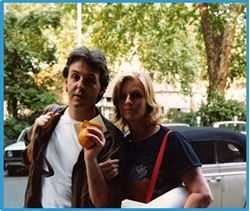 It is 20 years ago today that Linda McCartney passed away. I remember that day very well. I had met Linda on quite a few occasions over the years, and always found her to be very nice. She was certainly the love of Paul's life, and a very devoted mother.
She was diagnosed with breast cancer in 1995, and pretty much disappeared from public life to fight this horrible disease. In 1997, she appeared with Paul at the premiere of 'Standing Stone' at the Albert Hall. Although she had a very different hair style, she looked healthy, and it was wonderful to see her again.
She was making public appearances up until a couple of weeks before her passing, one of the last at Stella's fashion show in Paris.
The news of Linda's passing didn't break in the UK until the early hours of April 18th. I was running the London Beatles Fanclub at the time, as was rung up by CNN for a comment. I didn't know what to say, as it was such a shock. I thought Linda was winning her battle. My wife, Esther, was going through her own battle with breast cancer at the time, and I suppose we both thought that if Linda couldn't beat it, what chance did we have? Esther passed away in December 2000.
Source: Richard Porter/blog.beatlesinlondon.com