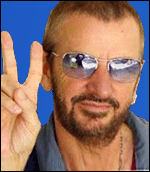 Forty-nine years after the Beatles toured Australia, Ringo Starr has gotten a personal invitation to return to a train station he supposedly visited back then. National Trust volunteers who maintain the historic Grandchester station have invited him to pay a visit, after learning of a local legend that Ringo secretly visited the station in June 1964.
Ringo returns to Brisbane on February 11 to perform with his All-Star Band, and so trust volunteers have emailed him asking him to visit Grandchester Station.
"While he is touring Down Under, would he like to visit this beautiful, historic station (either as Ringo or incognito) at any time on any day?" the email reads. "We would be delighted to host a visit and give him a tour."
Frank Klein, stationmaster in the 60's says: "It's a popular myth….There was a guy at the last station open day who said it happened, but I think part of the confusion was that there was a Laidley porter nicknamed Ringo, so that doesn't help things. It would be great if it were true and I hope anyone who does know gets in touch."
For more on this story: Full Story