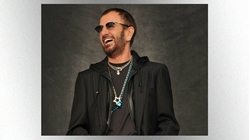 Ringo Starr is known for constantly sharing his message of "peace and love" with the world, and he's hoping fans will now help him "Give More Love."
The former Beatles drummer has launched a contest asking fans to submit a short video clip or a still photo depicting peace, love and kindness, for possible use in an official video for the title track to his latest album, Give More Love .
You can submit your photo or video via Instagram and Twitter using the hashtag #GiveMoreLoveContest. In a video posted on his Facebook page , Ringo explains, "I'm asking you to listen to Give More Love , my new CD, and if you can make a 15, 20-second little video or a still…we're gonna put them all together and make an incredible three-and-a-half-minute movie."
Starr will choose his favorite photos and clips for use in the video. Fans have until 11:59 p.m. ET on December 1 to submit their entries. Visit GiveMoreLove.com for more details and to check out the pics and videos that already have been posted.
Source: Midwest Communications Inc