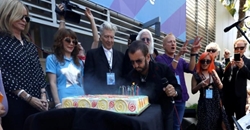 Former Beatles drummer Ringo Starr celebrated his 77th birthday on Friday by announcing a new album that will feature former bandmate Paul McCartney.
Starr's 19th solo album "Give More Love" will be released on Sept. 15 and will include McCartney on two tracks - "We're on the Road Again" and "Show Me the Way," which is dedicated to Starr's wife, Barbara Bach.
"We are still mates," Starr told Reuters of his former bandmate. "He's out on the road, he's got his own life. I'm out on the road a lot making records and he was in town so I called him and I said, 'I've got this track for you to play on.'"