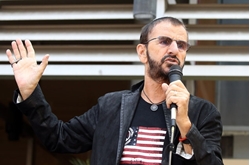 Ringo Starr is a fan of Justin Bieber.
The 76-year-old music icon - who is best known for being the drummer in the Beatles - has admitted to liking the 'Sorry' hitmaker, but Ringo doesn't think Justin is as big as his band once were.
During a conversation with a reporter, Ringo was asked: "If the Beatles and Justin Bieber were touring together in their prime, who would open?"
And Ringo - who appeared in the legendary group alongside Sir Paul McCartney, John Lennon and George Harrison - had little hesitation in replying: "Justin."
Then, the reporter said: "Beatles all the way, right?"
To which Ringo nodded and added: "All the way, brother."
Despite this, Ringo admitted to being a fan of Justin, whose most-recent album 'Purpose' earned him widespread critical acclaim and commercial success.
Ringo told TMZ: "But we love Justin. That's the second question I'm not going to answer."
Meanwhile, Ringo previously revealed the crucial role his former bandmate Sir Paul played in him being inducted into the Rock and Roll Hall of Fame as a solo artist in 2015.
The iconic band entered the Hall of Fame back in 1988, but Ringo was the last member of the group to be inducted as a solo artist - and he had his long-time friend Sir Paul to thank for the recognition.
He explained: "[Paul] talked to somebody and they're going to put me in the Rock and Roll Hall of Fame, and he's going to give me away like I'm the bride and I will accept."
Source: Brampton Guardian