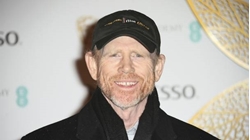 Director Ron Howard has said he chose to attend the Baftas rather than the Grammys because he was so gratified his nominated documentary about The Beatles has been received so well in the UK.
Howard has received nods for awards at both ceremonies - for best documentary at the Baftas and best music film at the Grammys - for his movie The Beatles: Eight Days A Week. The awards shows happen within hours of each other and Howard opted to brave the cold in London rather than attend the music show in Los Angeles. Arriving at the Bafta nominees party at Kensington Palace, he told the Press Association: "I had to choose but I have a lot of fun here, I have worked in London a lot and have a lot of friends here and the Baftas know how to throw a hell of a party."
He said he had not even been deterred by the snow and freezing temperatures, saying: "I came from New York where we had a huge blizzard so this ain't nothing."
However, he admitted making a film about the Fab Four was more intimidating than he first expected. He said: "It was scary as hell but I got into it because it was irresistible. "I thought there was a great story there and when else would you get to work with all that great music?
Source: Belfast Telegraph