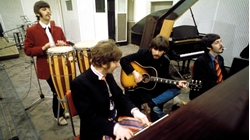 FIFTY years on from its release, The Beatles' Sgt. Pepper's Lonely Hearts Club Band is widely — and rightly — recognised as one of the most trailblazing albums in music history.
And while the Fab Four — John, Paul, George and Ringo — and their long-time producer and father-figure George Martin are largely credited with its freewheeling experimentation and astonishingly broad palette of styles and sounds, there was another key figure who was charged with transforming their wild thoughts into sonic reality.
Sound engineer Geoff Emerick was Martin's right hand man at the famous Abbey Road studios in London and was instrumental in creating the sounds that would define Sgt. Pepper'sas arguably the most important album in the rock music canon
He knew from the very beginning that he was going to have his work cut out for him.
"John just said that for the next album they were just going to concentrate on sounds and make different sounding songs because they were never, ever going to perform again," Emerick recalls half a century later.
"And George Martin was open-mouthed because every band performed and John said they were going to create stuff on these records that no one has ever heard before. And then everyone looked at me."
Emerick was just 20 years old when he worked on The Beatles' 1967 masterpiece, for which he would later win a Grammy.
By: James Wigney
Source: The Mercury